The three years after Milo Goes to College was released seemed like an eternity in my life, so in 1985 it was hard to believe that the Descendents had actually gotten back together and that I was going to see them. Unable to find anyone else driving up from Lawrence to catch the show (it was a Monday night, most everyone I knew was 16 and car-less, etc), I somehow managed to cajole my friend Andre into coming down from KC to both pick me up and take me back home that night. It was worth it.
This was the Milo Aukerman, Bill Stevenson, Ray Cooper and Doug Carrion lineup (listen for Doug doing his "Scoobies" right before the band plays a larval version of "Enjoy") and though it was their first tour they were obviously already "road tight". While seen from the vantage of 2009 there are a couple of surprises here and there ("Mr. Bass", "Shattered Milo", the screamy vocals on "Enjoy") mostly the set was about what you'd expect it to be: a killer display comprised of favorites off of the "Fat" E.P., Milo Goes to College and the just-released I Don't Want To Grow Up album.
That said, despite the high energy level of the night (the Micronotz set included — check it out here) the crowd was really pretty reserved throughout. In fact aside from a couple dudes who slammed their way through "Kabuki Girl" and a few other songs, Andre and I were the only people anywhere near the stage for a good 95% of the Descendents' set (which is why Milo thrust the mic our way during "Hope" and you can hear Andre warbling "You'll be the only onnnne"). Weird huh? It's kind of hard for me to reconcile this with my memories of the next three or four times I would see them in Lawrence at the Outhouse (always super-packed shows), but in 1985 the speed of Punk Rock was moving pretty fast — maybe people just needed to be reminded.
In fact for added and somewhat embarrassing context, here's the review I printed in my fanzine "Room 101":
Still, what a cool night. The bands were great, the ride there and back was a blast, and the songs were fantastic. I played this tape all Fall and Winter long, and though I almost feel foolish admitting how much these tunes (and others) helped get me through my teens, the truth is that they did. At 16 I was a little punk kid in search of some pop-smarts and lusty-but-achingly-heart-on-sleeve lyrics; clearly no one in 1985 could have delivered better on that than the Descendents. Thanks guys!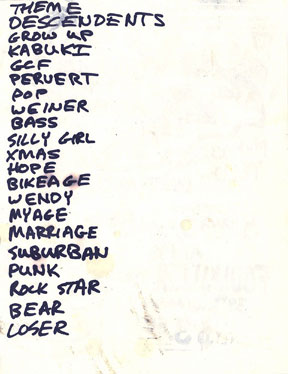 Set List: Click To Enlarge
(Note: though listed here, they actually never played "Rock Star","I Wanna Be A Bear" or "I'm Not a Loser".)
---
Descendents: Live At The Foolkiller in KC, MO 08-26-85 (192 kbps)
01 Theme (1:18)
02 Descendents (1:39)
03 I Don't Wanna Grow Up (1:24)
04 Kabuki Girl (1:12)
05 GCF (2:00)
06 Pervert (1:48)
07 My Dad Sucks (1:19)
08 Weinerschnitzel (0:12)
09 Mr Bass (2:16)
10 Silly Girl (2:17)
11 Christmas Vacation (2:39)
12 Hope (2:27)
13 Bikeage (2:07)
14 Wendy (Beach Boys) (2:04)
15 Myage (2:22)
16 Marriage (1:45)
17 Suburban Home (1:51)
18 I'm Not A Punk (3:52)
19 Enjoy (1:38)
20 Shattered Milo (3:00)
21 Catalina (4:42)
---
Oh and hey! At the end of the show be sure to listen as Keith Patterson reads the lineup of gigs set to go down over the next week in KC:
Touring: Die Kruezen, The Offenders, Killdozer, Sonic Youth, Flaming Lips.
Locals: Orange Doe-Nuts, Slabs, Lard & Vegex.
We really had it pretty fucking good.