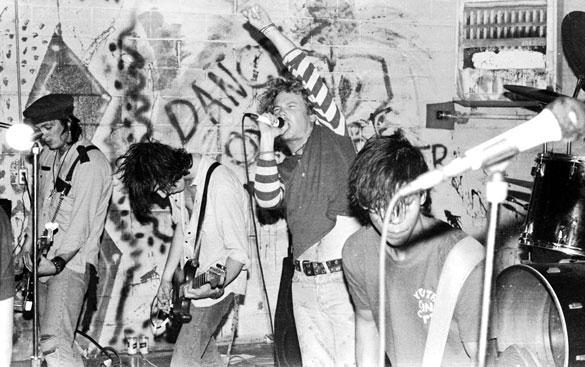 One of the first wave of shows at the Outhouse in Lawrence (and one of the only shows I taped there), this cover-loaded set by Decry finds them in between the classic SoCal Punk Rock of their Falling LP & the more Glam trappings of the Japanese MLP followup.
Now while Falling was received with near open arms at the time of its release (MRR compared them to the Adolescents, Circle Jerks, M.I.A., Black Flag AND Toxic Reasons), when they merged that style with the comparatively heavy dose of Hanoi Rocks~cum~Aerosmith (etc) trappings on Japanese (hey, it could have worked), their popularity seemed to pretty much drop off the radar altogether. Still, if you can imagine this approach panning out you'll be glad to hear that their more Rockist material gelled plenty better live than it did in the studio, and over the years I've played this recording much more than the actual later vinyl.
A few notes on the pics: I ran out of film right after these 4 shots, so sadly this is all I've got to share. Folks familiar the Outhouse itself will probably note both the minimum of graffiti as well as the total lack of a stage (eagle eyes might also spot a few mid-1980's cans of Carling Black Label with the old white packaging, then perilously close to its last gasp.)
And hey all you locals: be sure to listen for a confused Farrell asking why he should go to Bucky's (formerly Sandy's) in Lawrence.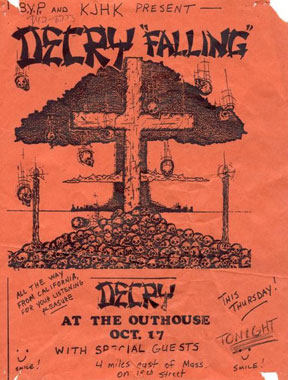 Decry: Live At The Outhouse in Lawrence, KS 10-17-85
---
Decry: Live At The Outhouse in Lawrence, KS 10-17-85 (192 kbps)
01 Problems (Sex Pistols) (3:01)
02 Here To Stay (2:52)
03 Let 'em Shake It (2:37)
04 Last Sin (1:23)
05 American Way (3:00)
06 Dead End Zone (2:31)
07 Raven (2:31)
08 Faces In The Night (4:26)
09 Two Miles From Nowhere (3:40)
10 My Island Paradise (4:42)
11 Mama Kin (Aerosmith) (3:29)
12 Calvary (3:28)
13 Falling (4:15)
14 Fortunate Son (CCR) (2:31)
15 Sorority Girls (4:07)
16 Something In Common (3:05)
17 Warlords (3:33)
18 Sonic Reducer (Dead Boys) (3:08)
19 Train Kept A Rollin' (Yardbirds) (6:02)
20 Stranger (4:43)
21 Farrell's Address (0:56)
---