Gardrails: The Worst Night(s) of Your Life 1983-1984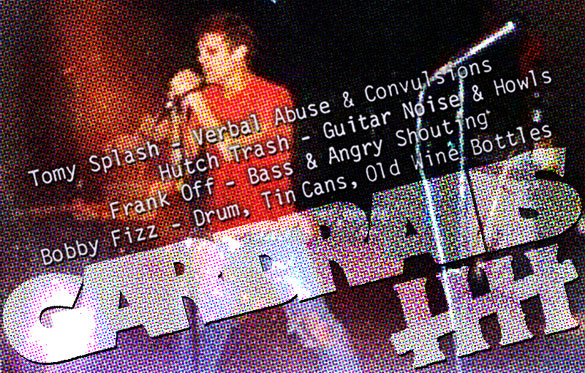 Easily my favorite house party band of all time; if you can imagine the early Germs mixed with King Uszniewicz and his Uszniewicztones you'll have an approximation of Lawrence, Kansas' amazing Gardrails. To set the stage here, let me just quote from their "official" bio:
What began in the winter of 1982-83 as a demented nightmare quickly festered into a cancerous reality by the next spring — feeding almost entirely on other group's songs, distorting them well past the line of sanity and leaving the bloated and unwieldy remains to be devoured and kicked to the ground by the ever increasing gang of criminals and thugs who refer to themselves as Gardrail fans.

Members Tomy Splash/ Tommy Nepsted (verbal abuse and convulsions), Hutch Trash/ Kurt Mangold (guitar noise and howls), Frank Off/ Frank Morris (bass and angry shouting), and Bobby Fizz/ Rob Fitzgerald (drum, tin cans and old wine bottles) unleashed a drunken barrage of noise and fun that was the perfect soundtrack to a night shared among Rock & Roll loving friends. Mixing what one flyer described as "Warped 50's Noisecore" with a dusting of Punk/Hardcore around the edges, the end result was a guaranteed good time-slash-headache.
Not since the Lindbergh kidnapping has there been such public shock and outrage. Gardrails defile everything that good, decent Americans hold near & dear. They are a menace that must be dealt with, or life as we know it will soon fall to decay, eaten away by this insipid and insolent NOISE.
They didn't last long really (how could they?), and aide from the occasional reunion everyone eventually drifted into other projects (Brompton's Cocktail, National Public Radio), thus allowing the Gardrails to remain fixed as a perfect moment in time. As Yoko Ono said in describing the ongoing appeal of the Beatles: "The story of the Golden Temple: A guy fell in love with it and burned it down. He couldn't stand the idea of it falling apart as it got older, and now the Golden Temple exists in perfect form forever. It became a myth."
Stop them now, before they invade YOUR home, drink YOUR liquor, and turn YOUR children against YOU and the rest of society. And then they will start to play.
I truly wish I had 20 more recordings to share here (their repertoire expanded well beyond these boundaries — certainly no finer version of "Blister in the Sun" was ever performed by anyone), but the links below should at least provide a glimpse into a better world than you might've ever imagined possible.
Ladies and gentlemen, the Gardrails.
---
1983: Live At The Loft in Lawrence, KS 11-19-83 (192 kbps)
01 Not Fade Away (Buddy Holly) (1:54)
02 Should I Stay Or Should I Go? (The Clash) (2:31)
03 Wescoe Beach (0:52)
04 Pipeline/Wipeout (The Chantays/The Surfaris) (4:17)
05 Tommy Splash On Guitar Blues (2:43)
06 Gardrails KJHK Station ID (1:05)
07 Stray Cat Strut (Stray Cats) (2:35)
08 Louie Louie (Richard Berry) (1:50)
09 Jumpin' Jack Flash (Rolling Stones) (2:41)
10 President Reagan (1:25)
11 Voodoo Hippie (2:39)
12 Red Hightops (2:38)
13 Who Do You Love? (Bo Diddley) (2:10)
---
1984: Live At The Lawrence Opera House in Lawrence, KS 04-21-84 (Underground Music Festival) (192 kbps)
01 For Your Love (Yardbirds) (2:56)
02 Wescoe Beach (1:53)
03 C'mon Everybody (Eddie Cochran) (1:30)
04 Red Hightops (1:25)
05 Route 66 (Chuck Berry) (3:01)
06 Wild Thing (Troggs) (1:49)
07 Jumpin' Jack Flash (Rolling Stones) (1:15)
08 Voodoo Hippie (3:59)
09 Stray Cat Strut (Stray Cats) (1:42)
---
1984: Unknown House Party in Lawrence, KS 00-00-84 (192 kbps)
01 C'mon Everybody (Eddie Cochran) (2:03)
02 Not Fade Away (Buddy Holly) (1:56)
03 Voodoo Hippie (3:50)
04 Good Lovin' (The Rascals) (1:34)
05 Wild Thing (Troggs) (2:19)
06 Untitled (0:22)
07 Pipeline/Wipeout (The Chantays/The Surfaris) (3:07)
08 Should I Stay Or Should I Go? (The Clash) (2:17)
09 Wescoe Beach (1:38)
10 Jumpin' Jack Flash (Rolling Stones) (1:49)
11 Fever (Otis Blackwell) (3:45)
12 Red Hightops (Incomplete) (0:09)
---
---