Micronotz: Live At The KU Ballroom in Lawrence, KS 05-05-85
Here's a nice long Micronotz set I recorded in 1985 at the SUA and KJHK sponsored end-of-school "Day on Green Hill" event, then only in its second or third year. Aside from the 'notz, this gig also notably featured headliners the Minutemen, who were on the last day of their 1985 spring tour. While my recording of the Minutmen's set has sadly been lost over the years, their performance of "Jesus and Tequilla" was caught on video at the time and has since been posted to YouTube (along with a cool D. Boon interview) by my pal Mike Blur:
Originally scheduled to be held on the "green hill" of Campanile, the weather proved to be too unstable for an outdoor gig and the bands were moved into the KU Ballroom (hence Jay's quip at the end of the set that "it's not too green but hell, you're still on a hill"). Befitting this type of general event the turnout was both bigger and more diverse than the usual crowd, and these newcomers found the Micronotz delivering a solid set of tunes off of the then soon-to-be-released "Beast That Devoured Itself" LP (featuring cover art by Randy "Biscuit" Turner, for all you Big Boys fanatics), along with a few covers and a track or two off of what would eventually be their final album "40 Fingers".
Speaking of those cover songs, one of my favorites around this time was the Abuse tune "No Money", which was originally released on the very first Fresh Sounds flexi-disc back in 1981. I actually think that the Micronotz had started performing this about a year or so earlier with Steve on vocals (during the "Dean era"), and it always struck me as a very cool nod to an earlier KS punk scene I was sorry to have directly missed out on. As an aside, members of Abuse went on to play in a variety of other good KS (& beyond) bands like Psychic Archie and the Leatherwoods, all of whom had a distinctively more pop thing happening and all of whom were quite good.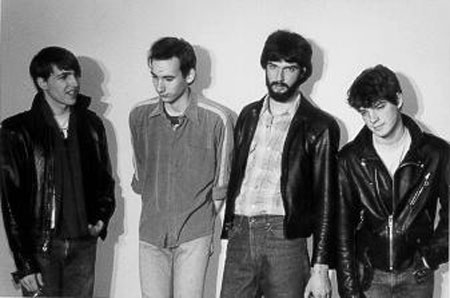 ---
Micronotz: Live At The KU Ballroom in Lawrence, KS 05-05-85 (192 kbps)
01 Tied To The Tracks (2:32)
02 Invisible (2:32)
03 The American Ruse (MC5) (2:36)
04 Oh Baby (3:35)
05 No Money (Abuse) (2:01)
06 Decide Tomorrow (4:17)
07 Psychodeli (2:17)
08 Cleo (2:20)
09 Way Too Long (2:35)
10 Polyester Slave (3:30)
11 Proud To Be A Farmer (3:06)
12 Brain Arrangement (2:45)
13 Run My Life (1:42)
14 Gimme Some Skin (Iggy Pop) (2:11)
15 War (1:40)
16 Whatcha Trying To Do (2:28)
17 Your Mind Is Empty (2:38)
18 Born To Kick Ass (1:29)
19 Push It Out (2:33)
---
And hey, just to continue my tradition of posting little extras with every Micronotz recording, here's the complete 1985 pressbook sent out to hype the "Beast" LP. Aside from the photo and bio you'll note that much of the material dates back from before Jay joined the group, but it's still a pretty good roundup of the type of press the band was regularly getting.