Battalion of Saints: Live At The Foolkiller in KC, MO 06-18-85
I first picked up the Battalion of Saints Fighting Boys EP back in 1983 at the great Starship Records in Tulsa, Oklahoma after being turned on to them by some Bartlesville friends of mine. Being overly enthusiastic 14 year olds, when together we would sometimes call the phone number the band had listed (for booking purposes) on their lyric sheet just so that we could, you know, chat and tell them how swell we all thought they were. Amazingly they didn't tell us to fuck off, and later on I'd run information gleaned from these phone calls as "Updates on Battalion of Saints" in my fanzine Room 101 (the one here dates from issue #2, early 1984). Battalion were one of the few "metallic tinged" Punk bands that got the mix exactly right for my tastes and over the years I would continue to slavishly pick up any and all releases of theirs I could find, spinning them for hours on end.
Flash forward to summer 1985: by this time the Bats had released their first full LP Second Coming (containing several slightly slicker re-recordings of tunes from the demo tapes, singles & comp tracks already out there) and were booked for a show at the Foolkiller in KC on my 16th birthday. For some reason this and a few other gigs around mid '85 got held in the basement of the building and though the sound was a bit dodger (George's vocals suffered the most) I personally liked the "cave vibe" as well as the fact that it didn't take as many people to fill up.
After sets by the Slabs and the Orange Doe-Nuts, Battalion of Saints finally got up and were ready to crank out what I'd been waiting forever to hear live. There was some more flash around the edges (check out those "Van Halen style" licks on Fighting Boys) and the set was cut a bit short thanks to several strings breaking, but I had no complaints — they were just a great fucking band and as cool in person as they'd been over the phone.
You'll find a couple of unreleased tunes here; "Number One" (vocals sadly buried but helpfully introduced with "This is a new one, uh it's called 'Number One', thank you!"), whatever Track 13 is actually entitled (could be a cover for all I know, but a hot song either way), and the last thing which is a quick message that (now deceased) guitarist Chris Smith recorded for me to give to Oklahoma chum Brendan and his sister "Astri or Austry or whatever the fuck her name is." A great night, a great band and a great birthday present.
Note: Swell guy and fellow KC punk (not to mention letterpress whizz) Bryan Hutcheson thinks he still has pictures from this show — stay tuned in case they materialize.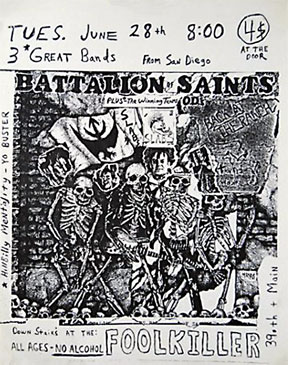 Click To Enlarge (Note incorrect date on flyer)
---
Battalion of Saints: Live At The Foolkiller in KC, MO 06-18-85 (192 kbps)
01 Club Noise/Warming Up (0:12)
02 Second Coming (2:33)
03 Right Or Wrong (1:33)
04 Fighting Boys (1:47)
05 No More Lies (2:26)
06 No Time (2:13)
07 My Mind's Diseased (2:42)
08 Beefmasters (1:58)
09 Cops Are Out (2:14)
10 Number One (1:58)
11 Animal In Man (1:32)
12 Holy Vision (2:28)
13 Track 13 (2:26)
14 Fair Warning (1:30)
15 (I'm Gonna) Make You Scream (2:14)
16 Message To Brendan (0:33)
---