N.O.T.A.: Live At The Lawrence Opera House in Lawrence, KS 12-01-84
Jeff from N.O.T.A.: Hey I'll see you after the show, dick.
I spent a dismal summer living in Bartlesville, OK back in 1983 when I was 13. Though most of my time there was spent in solitude listening to the 7 or 8 tapes I had brought to help me make it through the temporary exile, I was lucky enough to discover and befriend some punk kids who were around my age (that'd be Erik Adams and Brendan Anderson; hi guys!) in the final two weeks of my stay. We quickly became good friends and over the next year or so the three of us would ride the Greyhound bus between Oklahoma to Kansas for visits built around record shopping or punk gigs, and the two of them even contributed Oklahoma scene/show reviews to the first few issues of my 'zine.
One of the bands they always raved about (along with Diet of Worms, No Direction, Brown 25 and the Flaming Lips), was N.O.T.A.; local Okie kingpins who published the rad zine OK Decay and had a pair of singles and a cool live tape to their credit. They'd come through and played KC a few times before, but this was my first chance at catching them after a canceled slot opening for the Dead Kennedys bill a month earlier had left me disappointed.
Well as it turns out that DKs gig probably would have been a better bill for N.O.T.A. really. Lots of folks here seemed much more in tune with where headliners (and former speed kings) Hüsker Dü were promising to lead them, and the pure hardcore of N.O.T.A. seemed to harsh the crowd's collective mellow quite soundly (at the end of this set you can hear a woman cry out "Oh thank God!"). Still the band was tight and solid, with only a weird slapback echo making the precision jackhammering of the drums sound deceitfully loose from time to time. The set is about what you'd expect from this era as well, with plenty of tunes from Live at the Crystal Pistol & the Moscow / Toy Soldiers singles showing up, along with several songs that would wind up on their self titled Rabid Cat LP from '85.
So while it turns out that this wouldn't actually be the best N.O.T.A. show I'd ever catch (that would actually be when they opened up for Fishbone at the Outhouse two years later, every element of which seems unlikely to me in retrospect), it was still a good gig from a band that gets a bit lost in the shuffle these days. Worth my time in 1984, and worth your time in 2009.
---
N.O.T.A.: Live At The Lawrence Opera House in Lawrence, KS 12-01-84 (192 kbps)
01 Police Front (1:45)
02 Sick Society (2:28)
03 Fucked Up (2:13)
04 I Should Kill You (2:28)
05 Too Far (1:59)
06 Toy Soldiers (2:01)
07 Keeping You Out (1:48)
08 Propaganda Control (1:48)
09 This Country Once Was Free (2:27)
10 Moscow (2:14)
11 Fairies Wear Boots (Black Sabbath)/Drugs And Sex (3:40)
12 Nightstick Justice (2:41)
13 Cattle Call (2:11)
14 Summer Of 82 (2:49)
15 Identity Crisis (3:43)
16 War On Wankers (2:47)
17 Redneck Mentality (1:11)
18 Frustration (3:32)
19 Suicidal Cowboys (Brown 25) (2:17)
---
…and since N.O.T.A. closed their set with a Brown 25 cover, and since No Direction kind of evolved into Brown 25 after ND broke up, here are a pair of interviews Jim Blanchard published in his (always excellent) Blatch fanzine back in 1983.
As a side note on Jim (or "Jymm"); in addition to briefly fronting the band Gift, after Blatch he continued with some really cool art that you can check out here, and buy originals of here (you also might have caught some of the inking he did on the last 15 issues of Peter Bagge's comic book Hate back in the 1990's). To top it all off, after the Knockout Pills played a Seattle show in 2006 he came over to tell me that he thought we were really good, so Jim's okay in my book.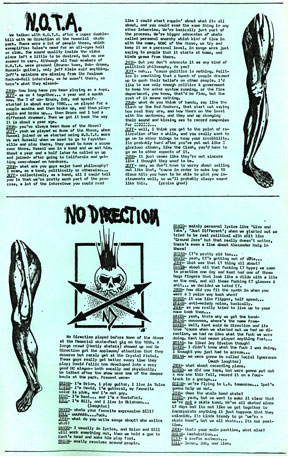 N.O.T.A. and No Direction interviews from Blatch #7, 1983. Click To Enlarge