7 Seconds: Live At The VFW#18 in KC, MO 09-21-84
I thought LA was rough but you guys make them look like a bunch of wimps!
You could accurately describe the 1984 me as something of a raving little straight edge kid, and as such 7 Seconds spoke pretty directly to my brain. Their speed, their melodic "woah-oh" vocals, their lefty-style personal politics, their "regular guy" look, their fairly "nuance-free" lyrics — all of it worked its magic on me in a big way. I was so smitten by their first two 7″ records (the era that is still my favorite — what a drag that the "United We Stand"/"Old School" sessions got held back for so long) that I even wrote Kevin Seconds a fan letter in 1983, promptly hanging his gracious response up on my wall:
Given the above it's fair to say that this night (the Samhain half of which I already wrote about and shared audio from here) found me pretty amped up, and happily 7 Seconds didn't disappoint. They were fast, tight, passionate and engaging, and even with the spookiness of Samhain waiting in the wings it seemed as though the crowd did their best to respond in turn (for example it was the most neighborly large-scale slamming I'd seen at the VFW to date; plenty of girls and every felled dancer quickly helped up). To top it all off the guys themselves were all friendly to a fault, and Kevin sold me a copy of the recently released Positive Force comp single "Nuke Your Dink" himself, helpfully (and correctly) mentioning how great he thought the No Deal track was. While 7 Seconds' later musical ventures turned out not to really be my thing (though logical in context of the myriad twists and turns 80's Punk Rock was to take), this was still a really fun night and the best I would ever see them play — I'm pleased to be able to share it with the world.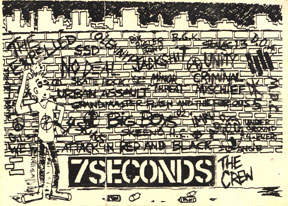 The sticker that Kevin gave me with the "Nuke Your Dink" single (Click to enlarge)
One kinda funny thing I always think about in relation to this show happened on the ride home with my good friend (and regular show-going punk rockerist) Pete Haney. He asked me what Kevin meant when he ended his introduction of the song "Aggro" with "…'cause you guys are aggro". I told him that I thought it was some kind of compliment based on all the energy the crowd was putting out, and that I'd heard him use that term in interviews to indicate "positive aggression" or whatever. "Oh," Pete said, "I thought that maybe because this was the Midwest and there's so much agriculture out here he was just calling us a bunch of farmers."
---
7 Seconds: Live At The VFW#18 in KC, MO 09-21-84 (192 kbps)
01 Strength (1:59)
02 Definite Choice (1:20)
03 Redneck Society (1:11)
04 Five Years Of Lies (1:39)
05 Drug Control (0:44)
06 Bottomless Pit (2:22)
07 In Your Face (1:44)
08 Bully (2:23)
09 Wasted Life (2:26)
10 Regress No Way (1:59)
11 I Have A Dream (1:33)
12 Straight On (0:44)
13 This Is The Angry (Part 2) (3:43)
14 Colorblind (3:04)
15 Aggro (1:57)
16 How Do You Think You'd Feel (2:56)
17 Not Just Boys Fun (1:36)
18 Anti-Klan (1:50)
19 Comitted For Life (1:52)
20 The Crew (2:17)
21 Racism Sucks (3:54)
22 No Authority (1:16)
23 99 Red Balloons (Nena) (Incomplete) (3:17)