Micronotz: Live At Voodoo Manor in Lawrence, KS 10-27-84 / "Underground Music Festival" Booklet
Probably the lowest-fi audio I'll be posting, this is also the earliest recording I have of the Micronotz second incarnation and a document that sounds exactly like what it is; a noisy Midwestern house party. Held at "Voodoo Manor" (the Micronotz practice space and partial residence) over the 1984 Halloween weekend, this was a really fun night. I sure wish I could tell you the names of every other band that played but, while I kind of think Ritual Romance started the show, the only group I remember for sure were the amazing Gardrails and sadly my recording of their preformance has slipped away over the years, perhaps lost forever. (Hey! Anybody have any Gardrails video? C'mon!)
Coming 6 months after Dean's last performance (at the Underground Music Festival, see below for more) and subsequent Art School exit, this was only the second time I'd seen the revived group with Jay on vocals. While almost every one of these songs was very new to me at the time, it's safe to say that they quickly became seared into my brain thanks to a combo of the band's regular gigging presence (click here for a dazzling list of Micronotz performances) and my homemade recordings of as many of their shows that I had blank tapes for. Honestly I only wish I'd started taping them a year earlier too.
So yeah, the sound quality here is pretty rough (at turns muffled, distorted and full of audience chatter) but a house party has always been my favorite way to experience live music. In fact one of the highlights of this recording is probably during "Invisible" (the chorus of which my girlfriend Stacy always sang as "My baby thinks that I'm an imbecile"); just listen to the build of those audience generated "woah-oh-oh-oh" backups. Hey! That's pure house party!
To set the stage, here are a few representative snaps of the guys playing and hanging around the house that the show was recorded at, all courtesy of (or "swiped from", if you prefer) the photo pages on Mike Blur's awesome Micronotz website.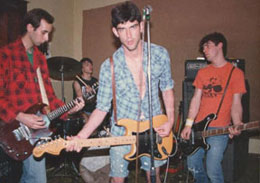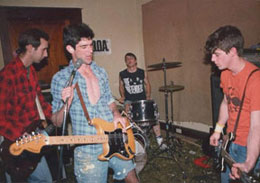 ---
Micronotz: Live At Voodoo Manor in Lawrence, KS 10-27-84 (192 kbps)
01 Oh Baby (3:27)
02 Born To Kick Ass (1:25)
03 The American Ruse (MC5) (2:26)
04 Invisible (2:39)
05 Whatcha Trying To Do (4:19)
06 Your Mind Is Empty (4:26)
07 Brain Arrangement (2:58)
08 Polyester Slave (3:58)
09 Run My Life (2:29)
10 Gimme Some Skin (Iggy Pop) (2:26)
11 Way Too Long (Incomplete) (0:10)
---
And hey, for a little "value added bonus", I'm also posting scans (just click the thumbs to enlarge) of the complete "Underground Music Festival" guide booklet, which gives a nice snapshot (circa April 1984) of the following bands:
• Lions and Dogs (Michael Connie Welsh, Jade Gurrs, Todd Newman)
• Orange Doe-Nuts (Larry Kenski, Mark Biemuller, Kurt Witt, Donny Byrom, Mike Sims)
• Sinclairs (Jean-Paul, Bill Burns, David Olds, Pat Hopewell, Brian)
• Mental Crisis (Coby Ellison, Matt Bramlette, Chris Hartman, Brian Green)
• The Yardapes (Chris Fowler, Frank Womack, Lisa Vader, Ron Achelpohl, Bruce Eddy)
• The Blinkies (Brian English, Doug Snodgrass, Mike Janas, Larry Snodgrass — Say! Does anyone have a copy of the Blinkies demo tape?)
• Non Plus (Laird McKay, Vance Hiner, "Boom Boom", Mark Roseberry)
• Gardrails (Tomy Splash/ Tommy Nepsted, Hutch Trash/ Kurt Mangold, Frank Off/ Frank Morris, Bobby Fizz/ Rob Fitzgerald)
• Pillbox (Chuck Mead, Vince Ramirez, John Nevin)
• Slabs (Joey Dog, Lantz, Jeff, Dave Scar)
• Pedaljets (Darrell Laham, Mike Allmayer, Max Worth — Say! Does anybody have a copy of the Other Geese demo tape? Got it! Thanks FJ!)
• Micronotz (Dean Lubensky, David Dale, John Harper, Steve Eddy)
Front Cover | Lions and Dogs | Orange Doe-Nuts | Sinclairs | Mental Crisis | The Yardapes |
The Blinkies | Non Plus | Gardrails | Pillbox | Slabs | Pedaljets | Micronotz | Back Cover
A little more background: The Underground Music Festival was a two night event held at the Lawrence Opera House, and was ostensibly broken up into vaguely "Pop" and "Punk" evenings. It mostly pulled from Lawrence and Kansas City for talent, and as I recall a couple of the bands didn't actually get to play (Mental Crisis for sure). I also seem to remember that both nights were to be recorded, but since they weren't recorded by me, I'm afraid that the booklet is the best I can offer. Enjoy!