The Dicks: Live At The Foolkiller in KC, MO May 3, 1984
Here is where I present aural and visual evidence that when I was 14 years old my parents let me ride an hour and a half up to Kansas City (on a school night!) so that I could see a punk rock band called "The Dicks".
Making their permission even less likely, I had chosen to bolster my sales pitch for the event by showing them issue #6 of Maximum RocknRoll, which depicted Dicks singer Gary Floyd in drag on the cover with the words "The Dicks: A Commie Faggot Band!??!" scrawled across the top.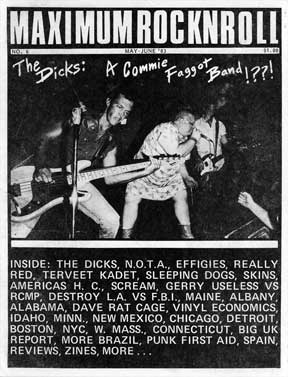 In the end I don't know if my folks complied because of my persuasive skills or because it was obvious that I was absurdly determined to become entwined with all of this punk rock crap, and they simply decided to embrace that end result sooner rather than later. I strongly suspect the latter, and stronger still I think the secret deal-closer was that they were vaguely impressed with the dedication I had recently shown by slopping out two terrible issues of my very own fanzine "Room 101", which I was busily sending out all over the globe in apparent obliviousness as to just how much it blew (and for the record, the degree to which it blew was "totally".)
Luckily the guy who was going to help me make that 'zine better was also the guy who had invited me to the Dicks show in the first place; his name was Jack Boyd and we'd only recently started hanging out. He was two years my senior and in addition to being a great musician and artist he also had the best Punk Rock record collection I'd ever encountered which he wasn't at all hesitant about loaning out. Jack would eventually do cool drawings for Room 101, help with interviews as well as record and show reviews, greatly advance the design and layout (Zip-A-Tone! Rub off lettering!) and take all of the cool pictures you see below (exciting contextual note: the peel off letters used here (for "Henry Rollins Interview", etc) were glow-in-the-dark and came from a box of Cap'n Crunch.)
It was also in the service of this 'zine that my Dad offered me the icing on the cake; he would loan out his portable cassette recorder for the night, allowing me to both interview AND record the band. I couldn't believe it — in one fell swoop this presented the technological means to nail the two biggest desires punk rock had stirred up for me; contribution and documentation. (Running neck in neck of course was urge number three: "collect", but for that I blame comic books.)
So this was my first "big city" show, my first interview with a band, and the first time I'd ever been entrusted with something as expensive as that tape recorder — looking back I can see that so many things could have gone wrong here, but amazingly nothing did. Kismet! We pulled up and I immediately felt at home in the Foolkiller (a "Folk Cabaret" with a historically liberal performance policy), I met the show promoters Keith Patterson and Eric Schindling ("Group Productions") and they were both amazingly cool guys who said it was no problem for me to tape the show (I asked if I could leave the recorder by the sound board; my fears of thievery loosing out to the desire to be up in front of the band) and to top it all off I couldn't have asked for an better first interview than the Dicks.
I dunno, maybe the band felt sorry for me or something (hell, I hadn't even gone all the way through puberty yet), but despite some really dorky questions ("Is the theme of the new album the same as the single? Peace and no war and stuff like that?") not one of them ever treated me like the rube I clearly was. In fact you can check it out; I've bundled a JPG of the printed interview in with the zip file of the show. Oh and did I mention that their set sounded fucking great too? Hit after hit sounding both tight and raw. Don't miss snippets of my pre-voice change vocals on "No Fuckin' War" either (easily confusable with the shriek that Rachel from "Issue" fanzine emits by the end). Uh, sorry about that guys.
Like I said: so many things could have gone wrong here, but instead this evening probably put the next big chunk of my life squarely into motion. My enthusiasm stoked, I started recording and interviewing lots of other bands for my 'zine, tapping myself into a network of great people both worldwide and right in my own home town. Clearly this good fortune is still paying off today; over a quarter century later I get to share that night with YOU.
---
• So here's the show (comes bundled with a jpg of the interview, as well as large versions of the flyer and the 3 pictures that Jack took)
The Dicks: Live At The Foolkiller in KC, MO May 3, 1984 (192 kbps)
01 No Nazi's Friend (4:08)
02 Nobody Asked Me (1:47)
03 The Police (Force) (2:42)
04 Legacy Of Man (3:26)
05 Fake Bands (3:08)
06 Rich Daddy (2:42)
07 Executive Dive (4:11)
08 I Hope You Get Drafted (2:11)
09 Sidewalk Begging (5:09)
10 You'd Better Think Twice (2:13)
11 Anti-Klan (Part 1) (2:11)
12 Decent And Clean (2:48)
13 The Dicks Hate The Police (2:25)
14 No Fuckin' War (6:24)
15 Little Rock 'n' Roller (Incomplete) (1:52)
---
• And here's a link to the interview in JPG form all by itself.
(And hey! I'd still really love to get a copy of that Wrecks demo "Teenage Jive"!)
---
…and just for the hell of it here's a clip (shot only one month earlier) of the Dicks performing "Fake Bands" at the Olympic Ballroom in LA
Categories:
Live Recording
1984, Flyer, Foolkiller, Gary Floyd, Interview, Kansas City, KC, Missouri, Photos, Room 101, The Dicks, Wrecks