Micronotz: Live At The Foolkiller in KC, MO 08-26-85
Having barely missed the true heyday of the Embarrassment (the only other real contenders), I can easily say that The Micronotz were by far my favorite local band growing up. At the age of 14 I already knew I was damn lucky to have them around, and listening back on their albums today it's even more apparent to me. Throughout their relatively short career (5 and a half years) they always delivered a solid and unique garage/Detroit-influenced form of American proto (and post) punk, with increasingly crafty pop-styled song structures showing up a bit more towards the end (translation: reviewers started mentioning Hüsker Dü more and Iggy Pop less). As most people familiar with the Micronotz know, there were two versions of the band; the short breakdown is that after original singer Dean Lubensky left Lawrence in 1984, "Crazy Legs" Jay Hauptli stepped in on vocals / second guitar to complete the new lineup. I've always thought that both formations were completely excellent in different ways and I'm sitting on around seven or so recordings from the "Jay Years" that I'll be happy to share here.
Chronologically this show is actually the last of theirs that I recorded, but I'm starting off with it both because it was a great gig (in multiple respects as they were opening up for the recently reformed Descendents), and because of a conversation I found on the tape when I got home. Turns out that right after the Micronotz finished up their song "40 Fingers", some fellow from the crowd picked up the recorder I'd left sitting on the mixing board. Assuming that it belonged to the band (and as a side note, old vocalist Dean was actually in attendance here in the crowd), this gentleman helpfully proceeded to solicit reactions about the show from his female companions:
Larry: So what did you think of tonight's performance, Blair?

Blair: What?

Larry: What did you think of tonight?

Blair: Oh, wonderful! Musically tight. You know, with Dean they had a better show, but now with Jay they've got a better, better sound.

Larry: Now that's Dean, Dean "The Machine", is that who you're talking about?

Blair: Right, right, right, right. He had the bod that attracted the girls, but these guys, they've got the music ability.

Larry: Thank you. Thank you for your comments.

Blair: You're welcome Larry.
So there you have it; both a succinct breakdown of the different eras of the band and the final word on the subject. The arguing ends now.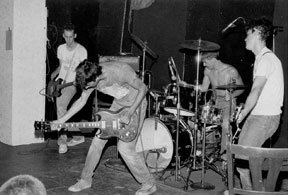 Click to enlarge
Micronotz live at the Foolkiller, 1985 (Photo by Phillip Heying)
---
Micronotz: Live At The Foolkiller in KC, MO 08-26-85 (192 kbps)
01 Stray Cat Blues (Rolling Stones) (1:40)
02 Born To Kick Ass (1:03)
03 Whatcha Trying To Do (2:24)
04 Proud To Be A Farmer (2:42)
05 Psychodeli (2:18)
06 Black And White (2:04)
07 Your Mind Is Empty (2:24)
08 Exit 301 (3:09)
09 Push It Out (2:12)
10 40 Fingers (1:51)
11 Audience Reactions (1:41)
---
And to round things out, here's an interview with the guys on tour in early '85, uploaded to YouTube by SuperFan Mike Blur: